'Atropos' letterpress, hand-bound pamphlet book
£

15.00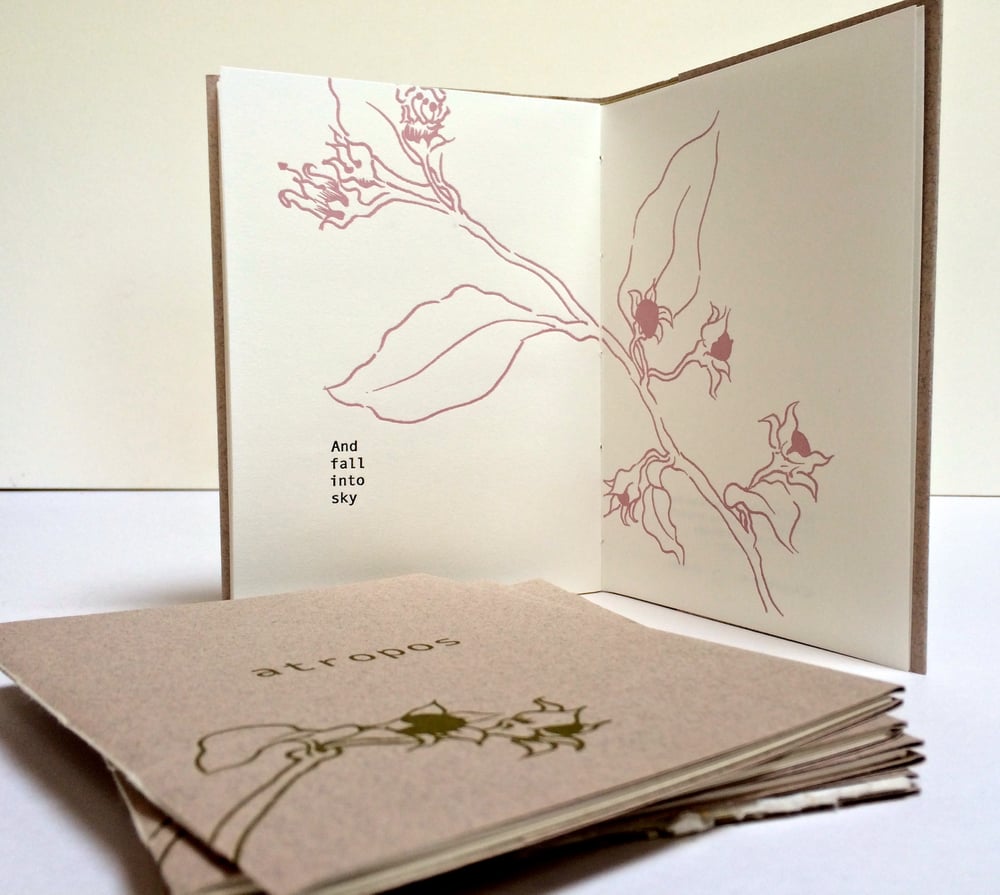 Atropos is a limited edition, original handprinted letterpress small book. Letterpress printed from polymer plates, on Mohawk paper with a soft cover, hand bound pamphlet book.
I was really excited when a few years back I was offered a scholarship at Penland School of Crafts, in Digital Concepts in Letterpress. What a fabulous place Penland is!
Traditionally, letterpress printed chapbooks involved hand-set metal type. Now we have access to much more, in the way of digital technologies. This may mean using digital typefaces, scanning images from original artwork and photographs, and printing from photopolymer plates, allowing us to combine old and new technologies, taking the best from both.
So many of the wild plants/weeds I saw in the meadows at Penland are the same as home. This helped me get working on ideas for a chap book quite quickly, and I worked on themes of plants for which we once knew the use and have now long forgotten.
Lots of plantain, dandelion and nightshades around Penland. Deadly nightshade has a good shape and an interesting history. Belladonna, latin Solanum 'the nightshade plant' Atropa belladonna. It has a long history of use as a medicine, cosmetically and as a poison. The name atropa comes from Atropos, the name of the oldest of the three fates and was known as the inflexible or inevitable. It was she who chose the time and way of death by cutting the thread of life.
Atropos narrates the poets awareness of the inescapability of death, a uniquely human analysis of existential themes.
Size closed 155mm x 115mm